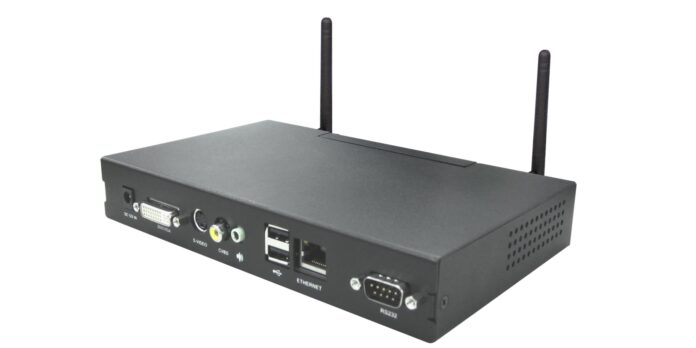 Most of us are familiar with the concept of electronic digital signage and how it works in theory. There are many digital signage manufacturers available in the market and many business owners buy into the idea that digital signage can help increase their brand awareness, promote new products and services, and even increase revenue, but many of them don't know how digital signage media players work in order to fully realize those benefits. For example, many business owners don't know that you have to have an Internet connection in order to run digital signage effectively or that there are different types of media players available that can be used to support this form of advertising.
An Introduction to How Digital Signage Works
A digital sign or electronic display (ED) is a television, computer monitor, or other video display that conveys information in any form and can be visible to members of the public. It may also refer to a message displayed on such a display. For most of history, and up until recently, signs were made from physical pieces of material such as wood or stone.
The Three Types of Displays
First, you need to figure out which type of display is going to work best for your situation. Here are your three options for digital signage displays:
LFD (liquid crystal display)
DLP (digital light processing)
LED (light-emitting diode)
All three of these types of displays do pretty much exactly what they sound like, but you need to consider some other factors before making a final decision.
Types of Software Used
It's important to know what kind of software will be used on your signage. This can be anything from streaming video players, web browsers, digital storefronts, etc. You don't want to go for something that isn't compatible with your network or that doesn't have strong support online. Also, make sure it works with a platform you already use in-house so you can easily manage everything from one location without needing third-party assistance all of the time.
A Closer Look at Different Hardware
There are plenty of ways to deliver digital signage content. It can be played through a laptop, a dedicated computer, or even by using a mobile device. For most situations, you'll need some sort of media player that has been specifically designed for digital signage (though most media players can also be used for other purposes as well). A true digital signage media player is capable of outputting digital content directly to an LCD screen with little or no setup required by users.
Choosing a Content Management System (CMS)
Once you've settled on a digital signage software and decided which type of digital signage player to use, it's time to choose your CMS. With so many options of digital signage manufacturers available, how do you pick one? Should you stick with what your digital signage software offers, or should you look for something more? We take a closer look at each option and discuss features that make one CMS better than another.
Conclusion
Digital signage media players (DSPs) are powerful tools that can be utilized to manage your digital signage content. Having a thorough understanding of how these devices work will help you integrate them seamlessly into your digital signage system. For those who want to learn more about DSPs, check out our guide on how DSPs work. We've also got a guide on top digital signage software options if you prefer an automated approach and wish to further streamline your operations.